momoko Photograph - The photo/outfit contest of momoko DOLL 2017.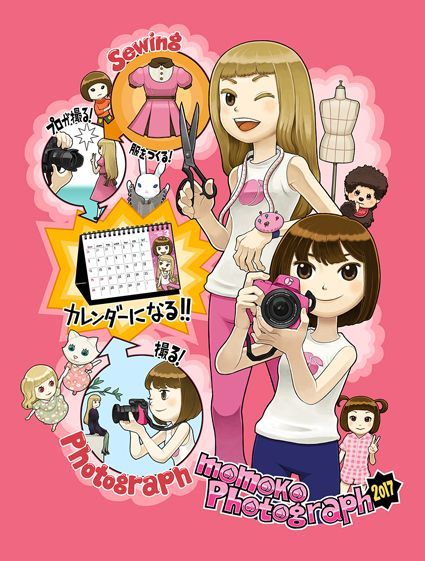 illustration by syake.
Application period: March 20, Monday - May 7, Sunday. 2017
Announcement of results at the beginning of June 2017
The contest of momoko DOLLs on Twitter.
Post your photo of momoko DOLLs or your original momoko outfits on twitter with #momokoph.
The best photo will be the grand prize.
We are looking forward to your post.
The Grand Prize (one person):
The photo will be on the cover of momoko calendar 2017 and shown on other media.
- A sample momoko (not for sale).
- momoko calendar 2018
The Second Prize (10-20 persons will be selected):
The photos will be on momoko calendar 2018.
- momoko calendar 2018
How to participate:
- Tweet and post your photo with the hashtag #momokoph
http://twitter.com
- We do not accept the posts by emails or postal mails.
- You can post as many as you like.
- Do not post the photos you had already posted for the past contest "momoko Photograph 2016".
- The protected account can not participate momoko Photograph, please uncheck the box next to
Protect my Tweets at Security and privacy setting.
- Please post the photos directly to Twitter.com. We will not judge photos posted to other applications like Instagram, Flickr, Facebook.
- You can post photos of momoko, and other dolls of PetWORKs and Sekiguchi as well.
- Your photograph may be introduced or re-posted by the Twitter account and the blog of momoko Photograph,
or related media.
- Your photograph may be shown or exhibited at the events of momoko, PetWORKs and Sekiguchi.
- Your photograph may be printed on the books or magazines related momoko.
- Your photograph may be edited, arranged, trimmed or featured into the slideshow with sound.
- Please state the title of your work in your tweet.
- The twitter account @------ of winners and the photograph title will be shown on the calendar.
- We will ask winners to send us the high quality photo data for printing.
- In case we do not receive the reply from the winners within 7 days from our email,
the winner's prize will be canceled.
- momoko calendar 2018 will be sold at PetWORKs Stores and other retailers.
- Photographs should not infringe the intellectual property rights of any third party.
All third party infringement claims should be handled by participants.
- Submitting an entry automatically means you are agreeing to abide by these terms and conditions.
- The personal information will be used only for the contest.
Positing Your Doll Outfit
- Please include characters "OUTFIT" or "衣装部門" in your photos.
a) Take photos of outfits with the paper written "OUTFIT" on it.
b) Put text "OUTFIT" on your photos.
- Please post photos that we can see outfit's details.
- Please take photos of outfits worn by doll models.
- Doll models shall be the ones produced by PetWORKs or Sekiguchi.
- Doll outfits shall be originally designed and made by the participant.
- Previously shown/posted/exhibited doll outfits are not acceptable.
- We will ask winners to send us your doll outfits in order to take photos.
Your outfits will be returned to you about 2 months later.
- Regarding winner's outfits the photo taken by the professional photographer
at PetWORKs will be printed on "momoko calendar 2018".
- PetWORKs will direct how to take photos of your outfits (models, angles, situations).
Judges Namie Manabe (PetWORKs), Kazue Yamasaki (Sekiguchi).
Hosted by PetWORKs Co., LTD and SEKIGUCHI Corporation
Cooperator: Dollybird
Produced by project breeder
Inquiry: event@momokodoll.com