"ruruko boy, Adorable SENPAI" will be released in October - November, 2017.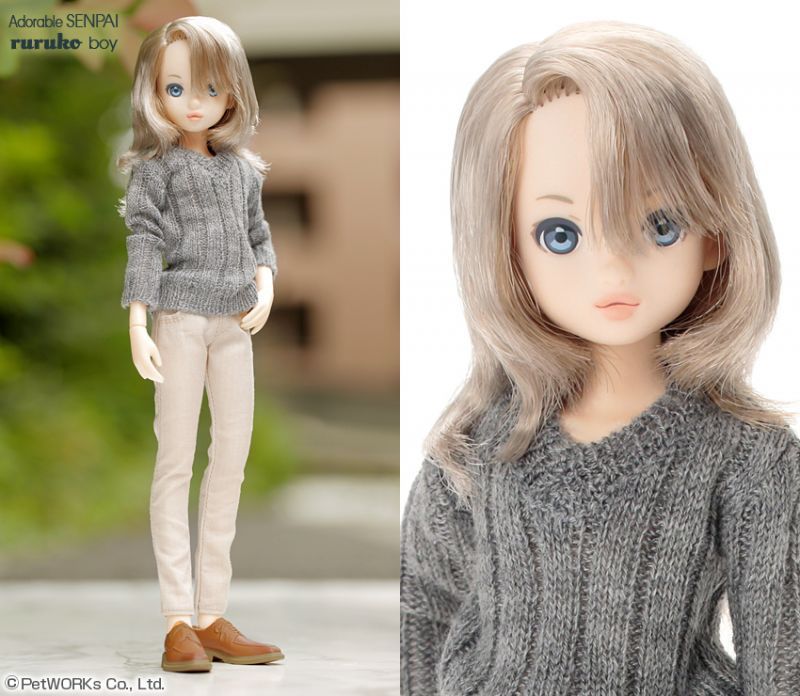 ruruko boy, Adorable SENPAI/あこがれの君 ruruko boy
JPY18,360
Schedule:
October - November, 2017.
The detailed schedule will be updated later when it is fixed.
How to sell:
Sold at PetWORKs Stores and our retailers. 
http://petworks.ocnk.net/
Contents:
- ruruko boy
- V neck Knit
- Cotton Pants
- U-Tip Shoes
Doll:
Hair: Silver x Deep-Ash-Blond
Eyes: Dull-Blue
Lips: Smiling Line
Skin: Fair
- Size: 23cm tall.
- Doll is made of PVC and ABS resin
- Outfits are made of fabric.
- Body: Pure Neemo Full Flection S, Boy (Azone International)
- Mask Design: Yoko Tokinori
- Mold (Body, Head) : Keisuke Sawada (sawada-kobo)
- Outfits: Aya Kasama, Taeko Sekiguchi
- The Knit Sweater has no buttons. You have to once remove the doll head in order to put on/off the sweater.
- The body of ruruko is designed that each part can be taken apart and attached easily, so joints may have gaps/slits also may be loose. They are NOT defective.
- The items in the photo(s) are pre-production samples, may vary from actual products.
The detailed information will be updated when it is ready.