"Kuma-bolo 009" and "Jossie 015" will be released in March-April 2018.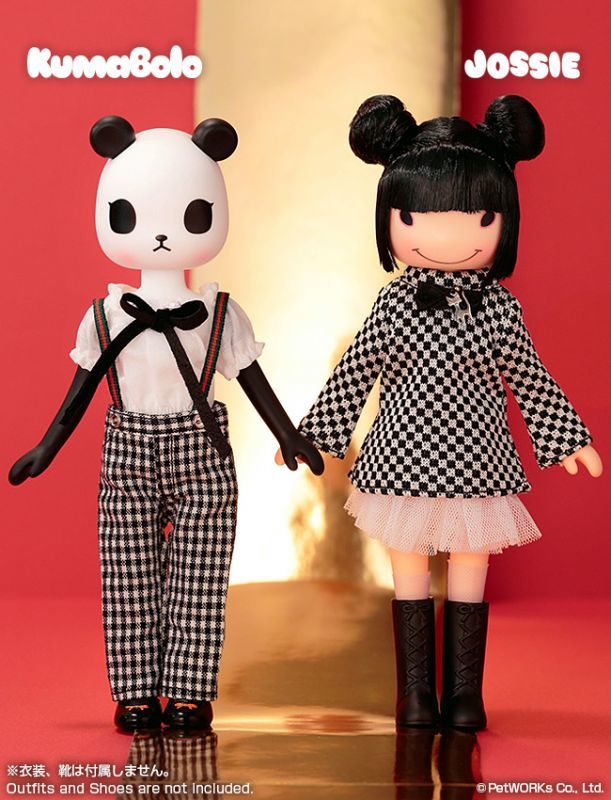 Kuma-bolo 009 JPY 4,104
Jossie 015 JPY4,860
- These items are nude dolls. Shoes and outfits are not included.
Schedule:
July - August 2018.
The detailed schedule will be updated later when it is fixed.
How to sell:
Sold at PetWORKs Stores and our retailers. 
http://petworks.ocnk.net/
Contents:
- doll
Kuma-bolo 009
Body: Black and White
Cheek: Pink
Eyes: Anime-Eyes
Nose/Mouth: Black
Jossie 015
Body color: Natural
Eyes: Almond-Eyes
Eye Lines: Metallic-Red
Mouth: Smiling
Blush: Pink
Hair: Real-Black, Double Buns
- Size: 18cm tall.
- Doll is made of PVC, made in Japan.
- Mold: by Yurika Kawamoto
Notice:
- The items in the photo(s) are pre-production samples, may vary from actual products.
- Actual colors may vary from the color on your screen due to monitor color restrictions.
- Products may have tiny black spots, bubble marks, scratches, irregular colors, or gaps.
- Products may slightly vary due to uniqueness of each hand-made item.
- Lengths of arms and legs may slightly differ, because of the character of material.
- Do not rub hard on the product, it will cause the paint to chip/peel/fade off.
- Do not give products to small children because they consist of small parts.
- Doll may get stains from color transfer out of the outfits/shoes/accessories.
- Do not place the product in high temperature, it may deform.
- In the case doll eyelashes are bent/split, leave it for a while then they may recover.
- Please take care with handling products, since they are fragile.
- This doll can not stand by itself.
- A doll-stand is not included.
- Please open packages and check products, soon after you receive them.