For the 20th Anniversary of momoko: A 20th anniversary message from Namie Manabe, Producer of momoko.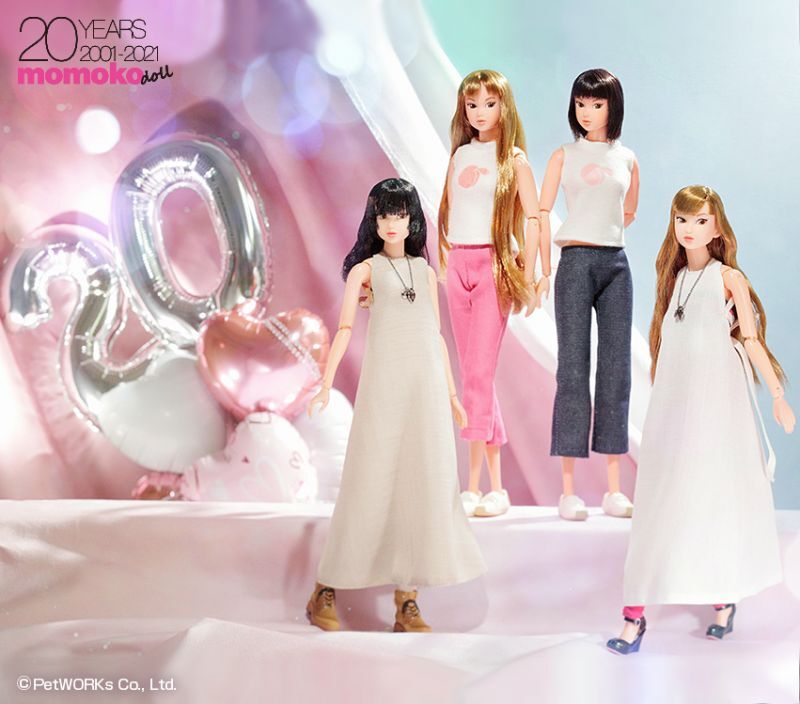 On 11th August 2001, momoko made her debut at Harajuku LAPNET SHIP. (*1).
This year 2021 marks the 20th anniversary of momoko.
I took a look back on what I was doing 10 years ago in 2011... (*2)
I was reviewing the 10th anniversary event in the wake of the Great East Japan Earthquake.
This year 2021, due to COVID-19 pandemic, the 20th anniversary event will be held in a compact and on-and-off manner with various projects in progress.(*3)
While carrying on for 20 years, I suppose not only around momoko but the world had its ups and downs.
In big waves and small waves, momoko-san has been standing with crisp air always at all times.
Indeed, momoko is a doll that was created earnestly by me and my peers, but I have an optimistic feeling that in the past 10 years it has already left my hands and ingrained in minds and daily lives of the fans.
People who have come to know momoko recently may perceive that there is a little doll manufacturer called PetWORKs which manufactures dolls such as momoko. But actually, it's the other way around.
I, as a doll fan, had mass-produced dolls for my solo exhibition (*4) and have been producing dolls to respond to the requests from doll fans, and then doll manufacturing and distribution have become my main activity.
But we now live in the 2020s, so it doesn't matter how it started, etc.
momoko is a toy, yet at the same time, she is an icon with a non-consumable core that presents new faces no matter how much you consume. You and I constantly have new faces, so momoko too can have new faces.
In 2011, I declared to do my best for 10 years up until 2021.
If there will be 10 years from 2021, I will enjoy momoko with all of you.
For the next 10 years, I will enjoy so that I can continue to "be there when I take a look back".
Also, to create smoother paths to small-lot manufacturing and distribution for the next generation of doll lovers, I hope to be able to give help like how I was given 20 years ago.
Lastly, I would like to express my gratitude to the factories, internal and external staff members, SEKIGUCHI-san, AZONE INTERNATIONAL-san for the long-standing 20 years!
Thank you for the soil for new challenges.
Namie Manabe
PetWORKs
August, 2021
*1
DOLLHEAD EXIBITION 2001
http://old-www.petworks.co.jp/doll/exhibition/dhex/index.shtml
*2
A 10th anniversary message from Namie Manabe, Producer of momoko.
http://doll.petworks.co.jp/info/?p=1728
*3
momoko DOLL 20th Anniversary Website
https://momokodoll20th.com/
*4
I basically love array of replicated art. Talking about this will take a long time and so many things have fallen out from my brain, I can't explain well.