"CCS 22AW momoko" will be released in Nov-Dec 2022.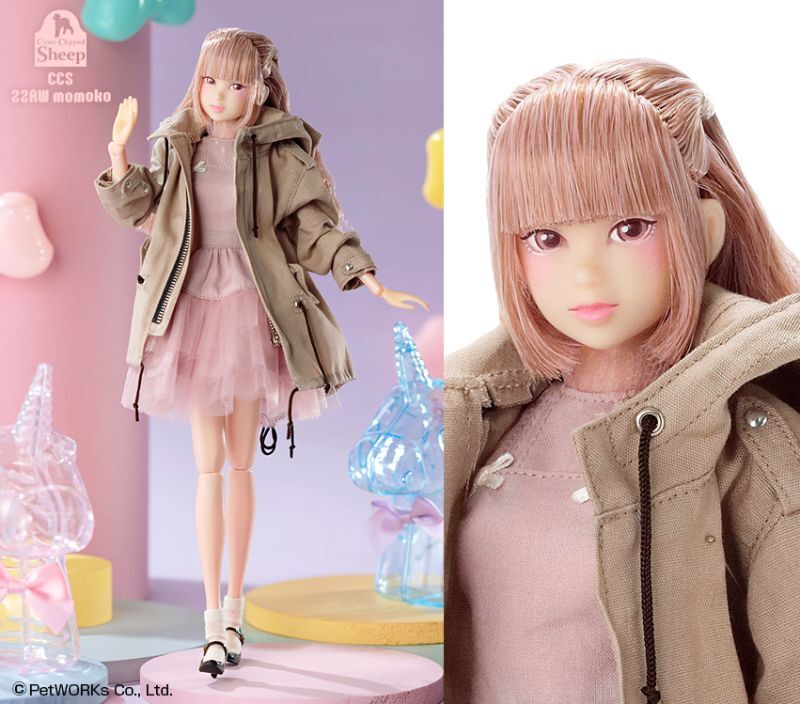 CCS 22AW momoko
JPY21,000
Schedule:
Released around November - December 2022.
The detailed schedule will be updated later when it is fixed.
The release schedule may be postponed.
How to sell:
Sold at PetWORKs Stores and our retailers. 
http://petworks.ocnk.net/
Contents:
- PW-momoko (doll)
- Mod Parka
- Tulle Mini Dress
- Shorts
- Socks
- Mary Jane Pumps (STOC)
Doll:
Face: Cool Face
Skin: Fair
Eyes: Pink-Beige, Dewy Eyes, Three Lower Eyelashes, Double Eyelid Lines.
Eye Make-up: Pale-Pink-Beige Eye-Shadow.
Lip: Pale-Pink, Thin Lips, Lines at Corners
Nail: Pink
Hair: Deep-Ash-Blonde and Patel-Pink Mix, Half-Up Pigtails Wavy Long.
- Body: Sekiguchi momoko body MB01
- Size: 27cm tall.
- Doll Material: PVC and ABS resin
- Clothes Material: Fabric
- Made in Japan (Body and Clothes: Made in China)
- Mold: Keisuke Sawada (sawada-kobo)
- Clothes: Taeko Sekiguchi
- The zipper part is not for actual use, the zip cannot be zipped-up.
- The items in the photo(s) are pre-production samples, may vary from actual products.
- Actual colors may vary from the color on your screen due to monitor color restrictions.
- Products may have subtle scratch, spot, coloring gap. They are NOT defects.
- The colors of parts (head, body) do not match each other, due to the difference of materials.
- The colors of parts (head, body) vary depends on the timing of production.
- Doll faces will slightly vary/different due to uniqueness of each hand-made item
(air spray painting with masks), faces are asymmetry, they are NOT defects.
- Doll's hairstyle will slightly vary/different due to uniqueness of each hand-made item
(rooted and cut by hands), Hairstyle is asymmetry, it is NOT defect.
- Fabric designs on products may vary due to the cutting pattern.
- Doll may get stains from color transfer out of clothes/shoes, do not keep dolls with clothes/shoes.
- Clothes/Accessories are fragile, should be treated with care.
- Do not rub hard on the product, it will cause the paint to chip/peel/fade off.
- Do not place the product in high temperature, it may deform.
- A doll-stand is not included.
- Knitwear requires delicate handling.
- Please open all boxes immediately after delivery and check for contents and damage.