Nov 10, 2020. Some items from "PetWORKs Dolls Asian Artist Exhibition" will be on sale.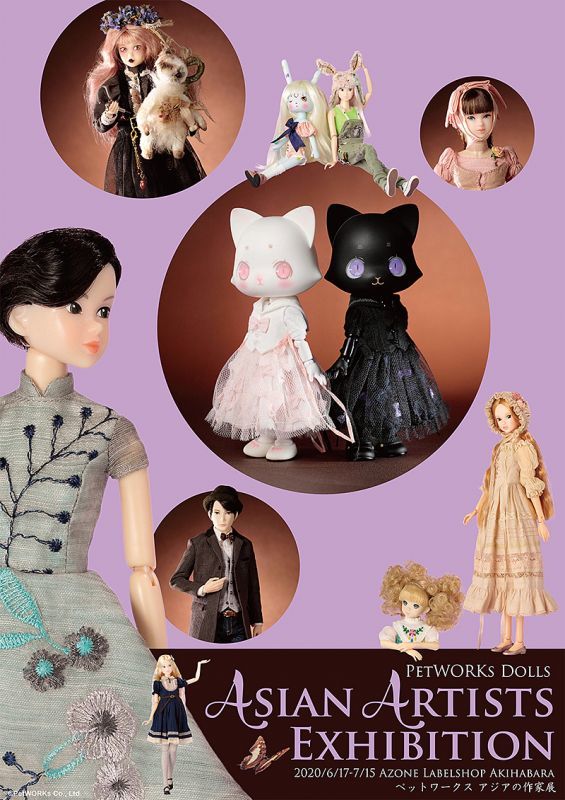 Some items from
"PetWORKs Dolls Asian Artist Exhibition"
will be sold at our store.
You will see the items on sale at our site, by November 10, 2020.
<< Schedule >>
November 10 (Tue), 2020 around 15:00 in JP standard time ( 06:00 in UTC)
Regarding time in your area, please refer to WORLD CLOCK.
http://www.timeanddate.com/worldclock/
Please read
"Temporary OPEN: Nov 10-16, 2020."
,
"Terms and Condition"
and
"Shopping Guide"
very carefully in advance.
<< NOTICE >>

- We will not accept returns, exchanges or repairs, since these item are made by artists.
- Refunding charge "about 4.2% of your payment total" is required for cancellation.
The refunding amount is: (Total of your ordering items) - (Shipping fee to your area) - (PayPal fee about 4.2% or your payment total for refunding) .
- The amount of new dolls are limited and "First Come First Served", sorry in case of sold out.
- The item(s) in the cart is/are not reserved until you complete your checkout,
and the item(s) in your cart can be sold out during your checkout session.
- Please do not re-sell to other person in purpose of making profit.
- We do not accept cancellation after we pack your order even within 12 hours after your order.
- We are NOT responsible for loss or damage during shipping.
- We will not deliver our items to the address in Japan except the forwarding company of the customer living outside of Japan.
- Orders with shipping address in Japan (except above cases), will be canceled. The refunding fee will be taken in refunding.
- If a shipment is returned to us as Un-Delivered due to the reason of your side (wrong address, address changed, long absence etc.), unexpected disaster or accident, the rules of your country (import regulations, laws etc.), and the problem or mistake of shipping service, we will cancel your order and will partly refund your payment.
- Customers may be subject to customs fees and/or import
duties and taxes, which are levied once a shipment reaches your country.