"CCSgirl 22ETO ruruko Tiger" will be released in Dec 2021.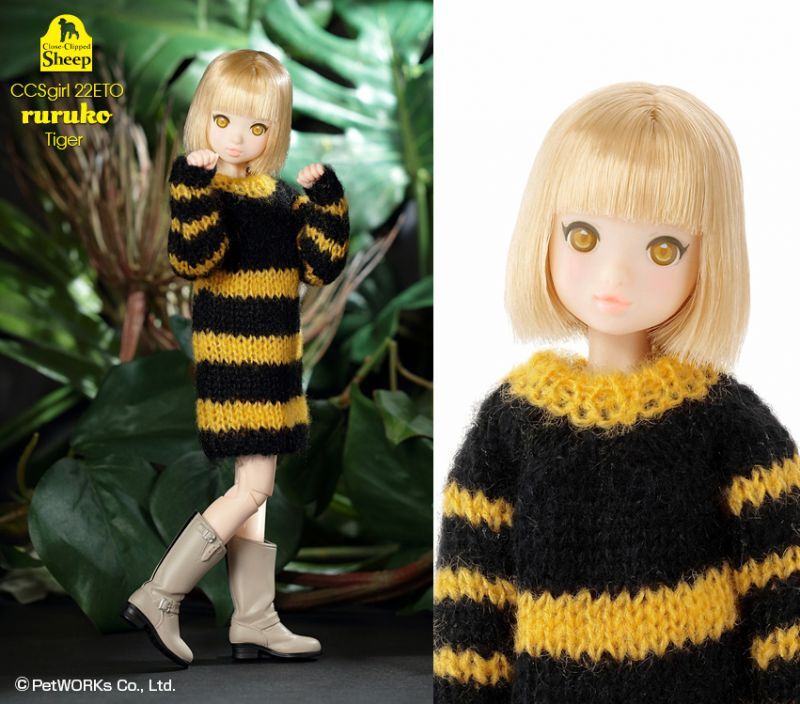 CCSgirl 22ETO ruruko Tiger
JPY19,000
This doll is made for the upcoming new year 2022, "Year of the Tiger" in Japanese Zodiac.
She is modelled on a Tiger.
Contents:
- ruruko
- Knit One-Piece-Dress (striped)
- Inner-Set (STOC)
- Engineer Boots (STOC)
- Hand Parts (2 Sets: Fists, Holding Hands)
- Head Adapters (2: Big, Small), a Washer.
Doll:
Hair: Blonde
Eyes: Cat Eyes, Khaki
Skin: Fair
- Mask Design: Yoko Tokinori
- Body: Obitsu Body 22cm, Bust Size S.
- Mold (head) : Keisuke Sawada (sawada-kobo)
- Clothes: Aya Kasama, Taeko Sekiguchi
- Size: 22cm tall.
- Doll is made of PVC and ABS resin
- Clothes are made of fabric.
- Made in Japan (Clothes: Made in China)
- The items in the photo(s) are pre-production samples, may vary from actual products.
- The knit is a pullover dress, has no buttons. You have to once remove the doll head in order to put on/off it.
Schedule:
December 2021.
The detailed schedule will be updated later when it is fixed.
How to sell:
Sold at PetWORKs Stores and our retailers.
http://petworks.ocnk.net/
This item will be sold at "PetWORKs Store Global" after its re-open.
The schedule of opening "PetWORKs Store Global" depends on the situation of the coronavirus pandemic and the international postal service.
https://petworks.ocnk.net/news-detail/634