October 16, 2017. "ruruko boy, Adorable SENPAI" will be arriving at our store.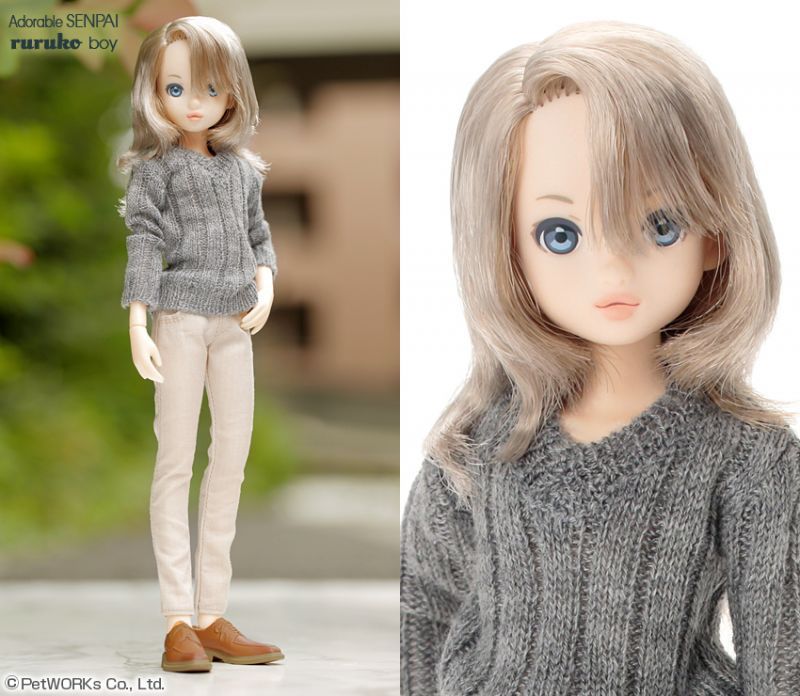 ruruko boy, Adorable SENPAI
JPY18,360
Schedule:
October 16, Mon. 2017 around 15:00 in JP standard time ( 06:00 in UTC) on sale.
Regarding time in your area, please refer to WORLD CLOCK.
http://www.timeanddate.com/worldclock/
How to sell:
Sold at PetWORKs Stores and our retailers. 
http://petworks.ocnk.net/
---
Contents:
- ruruko boy
- V neck Knit
- Cotton Pants
- U-Tip Shoes
The Knit Sweater has no buttons. You have to once remove the doll head in order to put on/off the sweater.
Doll:
Hair: Silver x Deep-Ash-Blond
Eyes: Dull-Blue
Lips: Smiling Line
Skin: Fair
- Size: 23cm tall.
- Doll is made of PVC and ABS resin
- Outfits are made of fabric.
- Body: Pure Neemo Full Flection S, Boy (Azone International)
- Mask Design: Yoko Tokinori
- Mold (Body, Head) : Keisuke Sawada (sawada-kobo)
- Outfits: Aya Kasama, Taeko Sekiguchi
- The items in the photo(s) are pre-production samples, may vary from actual products.
---
- You can purchase only one package regarding this item at one session.
- These items are "First Come First Served", sorry when the items are sold out.
- Please do not re-sell to other person in purpose of making profit.
- The item(s) in the cart is/are not reserved until you complete your checkout,
and the item(s) in your cart can be sold out during your checkout session.
So it will be safer to purchase one package per session.