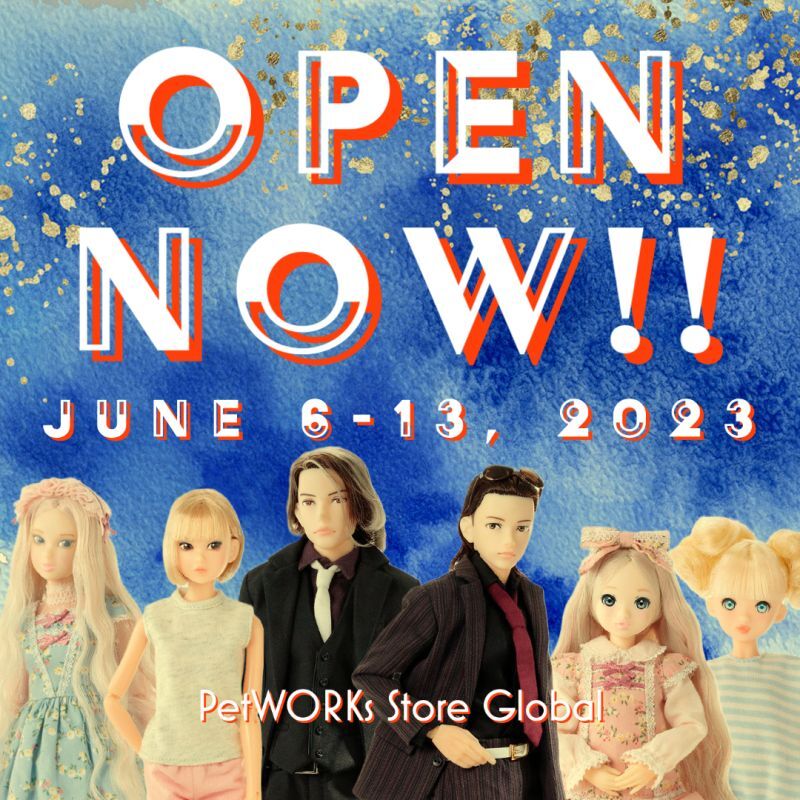 We do not always open our store due to the pandemic, and open once a month for a week or so.
https://petworks.ocnk.net/news-detail/634
Some new items will be on sale at the opening.
<< Schedule >>
Open: June 6 (Tue), 2023 around 15:00 in JP standard time ( 06:00 in UTC)
Close: June 13 (Tue), 2023 around 24:00 in JP standard time ( 15:00 in UTC)
Regarding time in your area, please refer to WORLD CLOCK.
http://www.timeanddate.com/worldclock/
Currently EMS is not available to some countries and we ship packages via DHL to those countries.
Since both EMS and DHL are not available to some countries (Russia etc), we have to give up delivering our items to these area.
Handling international orders take us time and also delivery will take longer than usual due to COVID-19.
Appreciate your understanding in advance.
Please read
"Terms and Condition"
and
"Shopping Guide"
very carefully in advance.
<< Area/Countries and shipping service >>
Please refer to the link below.
https://petworks.ocnk.net/help#help_charge
Handling fee: JPY700 to all area
The shipping fee is required regardless of the total amount of your order.
Availability of EMS/DHL depends on a country. You will see Availability during you check out.
JAPAN POST: Service availability by country
https://www.post.japanpost.jp/int/information/overview_en.html
EMS not available: some EU countries, Russia, Ukraine, some South American countries etc.
DHL not available: Russia, China, etc...
<< Countries where shipments are not available: Russia etc. >>
Since both EMS and DHL are not available for some countries, we are not able to directly deliver our items to these countries.
We appreciate your understanding.
For customers in some countries:
Currently "only DHL" is available for some countries since Japan Post (EMS) suspends shipments to those countries.
You can check if EMS is available for your country at the link below.
https://www.post.japanpost.jp/int/information/overview_en.html
For Russian and Belarusian customers:
Currently we are enable to ship items to Russia since both Japan Post and DHL suspends shipments to Russia and Belarus.
For Australian customers:
DHL suggested us not to ship items to Australia due to the following three risks:
1) JPY 2,600 as "Remote Area Delivery surcharge" may be additionally required for shipping. Please check if your area is regarded as "Remote Area" by DHL.
https://mydhl.express.dhl/jp/en/ship/surcharges.html
2) Recipients may have to pay additional tax about 15AUD.
3) It may take time to pass customs. (packages may be returned)
Customers in Australia should agree that these risks are on you.
Availability and the fee of EMS/DHL may change depending on the situation of COVID-19 pandemics.
We may cancel your order or change the shipping method even after we receive your order because of the change.
<< DHL: Notice >>
"post‐office box" is NOT available for DHL delivery.
Surcharge for DHL
- "Remote Area Delivery" fee JPY2600 is required to be paid in addition to the shipping fee, if the shipping address is regarded as "Remote Area" by DHL.
This surcharge applies when a shipment is collected from, or delivered to a location that is distant or difficult to serve.
Remote Area List 2022 (PDF):
https://www.dhl.de/content/dam/images/Express/downloads/dhl-express-remote-areas-service.pdf
- "Address Correction" fee JPY1300 is required to be paid after the delivery.
This fixed surcharge is applied to any shipment that has an incorrect delivery address at the time of pickup
and the delivery cannot be fulfilled after making efforts at the destination to determine the correct address.
<< Shipping timeframe >>
It takes up to 30 days before shipping.
Every procedure takes longer time than usual.
Within five (5) business days after your order, PetWORKs will send you an email to confirm your order.
Within twenty (20) business days from the date of confirmation email, we ship your order by EMS or DHL.
The delivery time (required number of days) depends of the EMS/DHL service of your country.
*"List of Delivery Days (EMS: from Tokyo)"
http://www.post.japanpost.jp/int/deli_days/ems/tokyo_en.html
Due to COVID-19, EMS may take much longer (sometimes more than several months) to be delivered.
<< NOTICE >>
- Refunding charge JPY"about 4.2% of your payment total + 40" is required for cancellation.
The refunding amount is: (Total of your ordering items) - (Shipping fee to your area) - (PayPal fee about 4.2% or your payment total for refunding) .
- The amount of new dolls are limited and "First Come First Served", sorry in case of sold out.
- The item(s) in the cart is/are not reserved until you complete your checkout,
and the item(s) in your cart can be sold out during your checkout session.
- Do not re-sell our pruducts to other person in purpose of making profit.
- Cancellations for the ordinary items must be received within 12 hours after your order.
- We do not accept cancellation after we pack your order even within 12 hours after your order.
- We are NOT responsible for loss or damage during shipping.
- We will not deliver our items to the address in Japan except the forwarding company of the customer living outside of Japan.
- Orders with shipping address in Japan (except above cases), will be canceled. The refunding fee will be taken in refunding.
- If a shipment is returned to us as Un-Delivered due to the reason of your side (wrong address, address changed, long absence etc.), unexpected disaster or accident, the rules of your country (import regulations, laws etc.), and the problem or mistake of shipping service, we will cancel your order and will partly refund your payment.
- Customers may be subject to customs fees and/or import
duties and taxes, which are levied once a shipment reaches your country.
<< Inquiries >>
We only accept inquiries in English or Japanese.
It takes up to 7 business days to reply to your inquiry.
当ストアは、日本国内の住所が発送先となる御注文を承りません。
日本国内のお客様は、PetWORKs Store (in Japanese) をご利用ください。
日本国内の住所が発送先となる御注文は自動キャンセルとなります。
返金の際はPayPal手数料(「合計金額の約4.2%」+40円)を差し引いた金額を返金します。